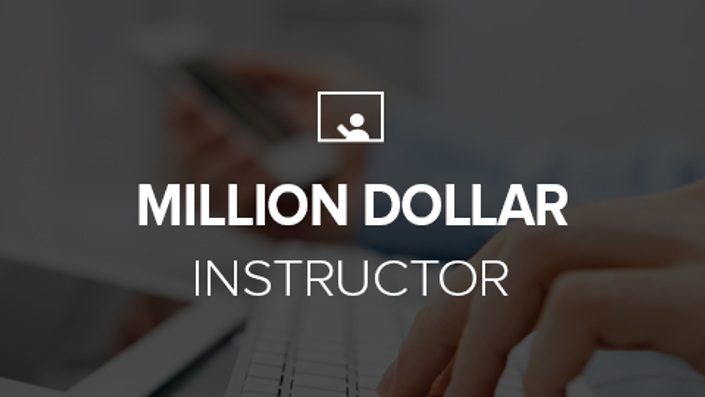 Million Dollar Instructor
The Most Comprehensive Playbook to Develop and Grow a Successful Online Course
About the Course
Million Dollar Instructor is the comprehensive set of video lessons that takes you behind the scenes of the best practices and tactics of "teacher entrepreneurs," a growing segment of internet entrepreneurs.
With the shift to online education, these ordinary people, are converting their knowledge on almost any topic into $10,000's or in some case over a $100,000's of dollars in income every month.
In this course, you'll be led by John Nichols and Eliot Arntz, Founders of the independent online school Bitfountain.io. They'll take you from their humble beginnings to enormous success – since April this year, John and Eliot have produced courses which have generated over $2M in revenue:
| Month | Revenue |
| --- | --- |
| April 2014 | $151,319.64 |
| May 2014 | $87,983.50 |
| June 2014 | $210,702.39 |
| July 2014 | $425,093.23 |
| August 2014 | $273,656.70 |
| September 2014 | $324,875.24 |
| October 2014 | $196,485.45 |
| November 2014 | $180,091.22 |
They will be joined by Ankur Nagpal and Conrad Wadowski, Founders of the online course-hosting platform Fedora who in the past year has helped over 1,000 instructors sell online courses. Having seen 4k+ courses on their platform, they break down what makes a best-selling course stand out from the noise.
You may have a variety of goals before coming into this course – to help grow your audience, make income in your spare time, or dive into becoming your own "teacher entrepreneur."
In this course you will learn
Every step you need to launch your course - you'll define your course concept, test your concept, develop content and bring your course to the most primed markets. We'll focus in on the problem holding you back. We'll dig into:
Phase 1: How to narrow into your course value proposition and test demand
How to come up with and define a killer course idea based on your expertise. Then, the exact steps to take to test if there's demand for what you'd like to teach.
Pre-launch marketing. You'll learn how to evaluate the success of your topic before investing time and energy much into actually producing any content.
Phase 2: The step-by-step process to develop compelling content
These lessons will also detail how to create content that's so valuable others will gladly pay for it - including video and audio content, without the need for expensive tools and software.
Just the research and scripting techniques you learn here will save you a ton of time. Afterwards, you'll learn how to create a insanely happy experience for your students.
Phase 3: How to price, launch and grow your course

This section will take you into topics such as pricing and ultimately getting your course to people who need it most. We'll go into the details and include specific pre-launch and launch landing page templates, successful email copy and lists of people and companies who can help you bring your course to an even larger audience.
This course will help you focus your marketing on the activities that have proven to be successful - we show you how to get the most out of your Blog and Email, SlideShare, Youtube, Online Forums, Deal Websites, Offline Events, Kickstarter and many more places. This exhaustive list of places is all prioritized by impact and can help instructors with or without an audience launch or expand their reach.
Later, John and Eliot, Founders at Bitfountain, reveal all the strategies which have been vital in helping them ramp up to revenue goals which include over $2M in revenue in 2014.
Phase 4: Interviews and case studies with leading teacher entrepreneurs
To round the course off, you'll get 12+ expert and over 6 hours of interviews with a hand-picked selection of successful instructors – each with their own unique approaches, strategies and tactics. Some highlights include:
Learn how Paul Solt and Justin Mitchel used Kickstarter to presell 6 figures worth of online courses that had not been developed.
See how successful author David Kadavy converted a best-selling book into a best-selling online course.
Watch Mattan Griffel explain how he created the #1 best selling course on Skillshare and then leveraged that into building a Y-Combinator backed company.
Noah Kagan set an audacious goal to make $1M from a single online course. And then beat it comfortably. Learn how he did it.
30x500 co-creator, Amy Hoy who's made $1.5M helping people create online courses. Even more impressively, her students have made over $3M following her advice.
Your Instructors
After making $1M reaching over 100,000 students with our online courses since April this year, we decided to partner with the online course-hosting tool Fedora, to develop a comprehensive course to how anyone can start from ground zero, which is where we began, to profit from their own online course.
Fedora works with independent instructors and companies to help teach or sell courses from their own website. Fedora is the all-in-one solution which hosts multimedia content, handles payments and analytics while allowing instructors complete control over their content, student information and design. Founded just over a year ago, Fedora already powers some of the world's leading online schools and has helped launch over 4,000 courses.
Course Curriculum
Section 2 - Choose your course content mix
Frequently Asked Questions
Is this course applicable for people that are already teaching online?
Absolutely. In fact, if you are already teaching online, chances are you'd be able to recoup your investment in this course in a matter of days by following some of the more advanced pricing and marketing strategies alone. Even experienced course creators will be able to benefit from some of the production hacks shared by Bitfountain - in addition, to the marketing knowledge of course.
Why is there an enrollment period set to Friday December 19th at Midnight Eastern Time?
After opening enrollments for 4 days, we're going to focus all our efforts on helping students inside the course achieve results. Based on how much time is needed to get our first batch of students to success, we may open up sign ups again at a later date.
Is there any specialized equipment or software that I need?
Million Dollar Instructor has come pre-packed with all the tools you need to launch a highly successful course. - all you'll need to launch a course will be an internet connection, laptop and mic. If you desire adding more production value, we'll show you exactly how to get started with high-quality video using your iPhone, all the way through the specific pieces you need to step up your game as your course grows and you look to create more content in an efficient way. Each software product will be available for free trial, or will be made available as a free bonus in the course - including
Fedora
,
ConvertKit
and
SumoMe
.
Does Million Dollar Instructor have a refund policy?
We've worked hard to produce what we feel is the best course of it's kind. That said, if you're unhappy for absolutely any reason 30 days after purchase, we'll refund 100% of your money - no questions asked.
A Letter from John
Co-Founder at Bitfountain.io
Online Courses are the Future of Media
Everything we knew about education has changed.
When we first started teaching online we had no idea it was possible to make this type of impact with teaching.
Now, one year in, we realize this isn't a fluke. If John and I could start from ground zero to create and make these courses successful, we think really anyone can.
Unlike before, all of the means of producing a course are at your grasp.
Instead of going through the hassle we did of not being certain about what works, we've tested a variety of tools to create the course as well as marketing channels, and can show you how to get your own school up quickly.
On top of that, we give you our specific blueprint which can be employed by to be successful in whatever topic. We'll get you kick started to build out an successful cousre launch, or even create a million-dollar school.
It's important to realize our success isn't an isolated case. During the past year, we've gone to meet many other teacher entrepreneurs including Ankur Nagpal and Conrad Wadowski who started in teaching online and founded the course hosting tool Fedora, which is being used by thousands of instructors including us.
With their help, we're rounding out the course with 6+ hours of detailed interviews from 10 other "million dollar instructors."
Online courses provide a scalable way to create a connection with people. It's a form of media that's been proven to work and will educate our current generation with relavent career and life skills.
Whether your ambitions are to generate income, create a side business, monetize an existing audience or to develop a way to gain traction for your company, an online course can take you there.
We're looking forward to seeing the splash this course makes in the world. Sign up below to get your first lesson completely free.
As we get ready for our launch, you can up below to get your first lesson completely free.
See you soon!
John Azzi and Eliot Arntz, Co-founders at Bitfountain.io
Featuring insights from:
Noah Kagan
Made $1M+ with the online course Monthly1k.com, Founder of AppSumo and SumoMe
Nathan Barry
Product Launch Specialist with $500K+ in educational product sales, Founder of ConvertKit
Vanessa van Edwards
Teaching Marketplaces Expert - CreativeLive, Udemy, PopExpert and Body Language Coach
David Kadavy
Best-selling author of Design for Hackers - #18 Amazon bestseller and video course
Mattan Griffel
Top-selling Instructor on Skillshare and Co-Founder of YC-backed education startup One Month
Amy Hoy
Made $2M selling online workshops including $1.5M from the renowned 30x500
Mark Lassoff
Built a $1M+ annual course business on the back off eBook publishing
Josh Payne
Founder of StackSocial, making $5M+ annually selling online courses
Conrad Wadowski
Founder of the User Growth Bootcamp, making up to $50K+ in a month.
Justin Mitchel
Made $250K Net in Online Course Sales Teaching Entrepreneurs How to Code
Paul Solt
Raised over $100k+ on Kickstarter to create online iPhone tutorials
Scott Britton
Learn how Scott has made $50K on course marketplaces in the last 3 months.
...and including
$1,000+

of free bonuses
3 free months
of any
Fedora
plan to build your online school
3 free months
of any
ConvertKit
plan to handle email marketing
More bonuses to be announced